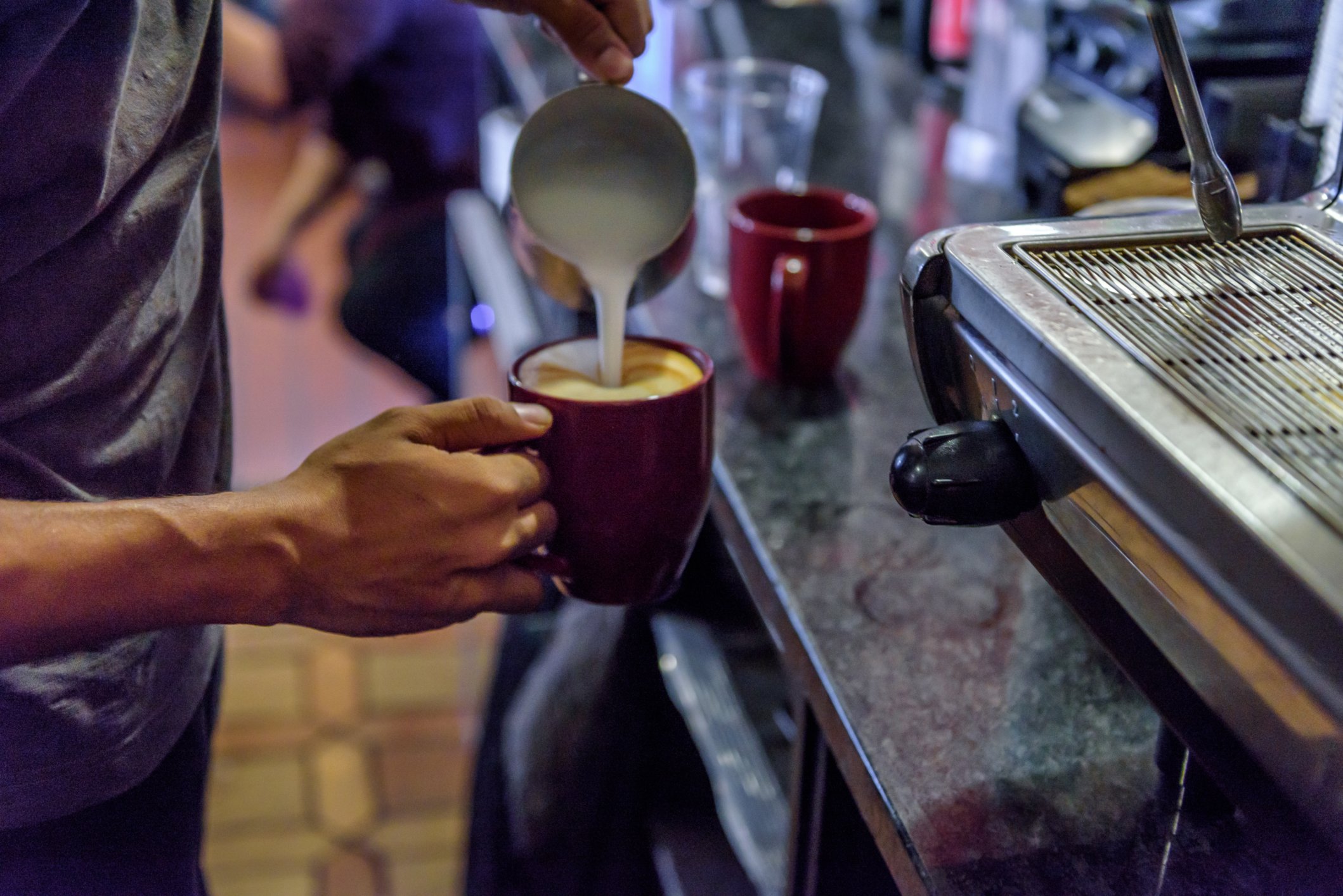 Before Koffee?
Starting in the early 1970's through 1990, the space that Koffee? currently occupies was a bar by the name of The Foundry Cafe. The old New Haveners remember it as THE spot to come for a couple beers and enjoy good live jazz.
That all ended in late 1980s when The Foundry Cafe was raided by the FBI for being a major cocaine distribution point. Needless to say, there were many arrests and the place was shut down for good.
Koffee? as a young sprout
Three years later, in 1993, the space was reopened as the coffeehouse Koffee? - New Haven's third coffeehouse (after Willoughbys and the now defunct Daily Cafe). It was an odd little space with good coffee and an alternative reputation.
Four years later, Koffee was sold to a lovely couple - Lee and Tracy Jackson. Tracy was the major force behind Koffee? at that time in every morning at the crack of dawn baking muffins, then behind the counter greeting customers when the shop opened. With her loving guidance, Koffee? blossomed into an open and friendly coffeehouse that welcomed and embraced all.
In 2000, Yale approached Lee and Tracy, and offered them the space at 276 York Street (that was formerly occupied by Willoughbys, and now by Blue State Coffee). They quickly snapped up the space and built out a new coffeehouse, Koffee Too? After about a year of managing two shops, they realized that having multiple locations wasn't ideal.
In 2002, Duncan Goodall (a Yale alum, who used to study at Koffee? when he was a student) came along and bought Koffee? from Lee and Tracy, so they could focus their time and attention on KoffeeToo?
Koffee? as a young adult
As most young adults do in their early 20's, Koffee? began serving wine and craft beer in 2012 under the Koffee Afterdark Marquee, a transition Koffee? makes starting at 5pm every day.
In 2014, Koffee? transitioned into a new era of coffeehouse. That year marked a gradual transition away from pre-packaged, highly-processed foods to food prepared from basic ingredients in our own kitchen. We no longer use pre-mix blender syrups; rather we use *real* mango and *real* cookie dough in our blended drinks. Likewise, we offer more cut vegetables and hummus, fresh baguette sandwiches, and other delicious, fresh, healthy *whole* foods.
Starting in 2015, we gradually phased out nuts. We are now proudly a nut-free kitchen. Likewise we are increasing our gluten-free offerings, with four new gluten-free muffins (white chocolate - strawberry, parmesan-broccoli, chocolate-chocolate, healthy harvest), a gluten-free protein bar, and a gluten free granola bar.

Parallel to our commitment to fresh, healthy, natural foods is a commitment to sustainability. Wastefulness--both food and refuse--has long been a part of the commercial food industry. We are very proud to say that we have implemented a "zero-landfill" policy, and have eliminated the waste we produce by a significant amount.
As we move into 2018, we are always expanding on our ideas and your requests. The next phase of menu development will include more gluten-free lunch options, more vegetarian options and more vegan options.
Are you new to town? First off, welcome! You may find this Welcome to East Rock Guide helpful as you navigate your way around town. By no means is this a professional take on places to check out, but simply one guy's opinion on places and services I've enjoyed while living here in New Haven.
Cops, East Rockers Connect Over Koffee
New Haven Independent
The Koffee? Question: An Eccentric Brewhouse Straddles Yale and New Haven
The Politic
Taste-Testing a Second Career, With a Mentor
The New York Times
Kabernet?
New Haven Independent
The 50 Best College Coffee Shops in America
Complex
Best of Connecticut 2011: Food and Drink
Connecticut Magazine
3 Start-Up Tips From 'Yale's Professor of Coffee Shops'
Inc.
Hidden Spots of New Haven
Her Campus